Village Lodge - Ruidoso
33.35171

,

-105.67442
79US$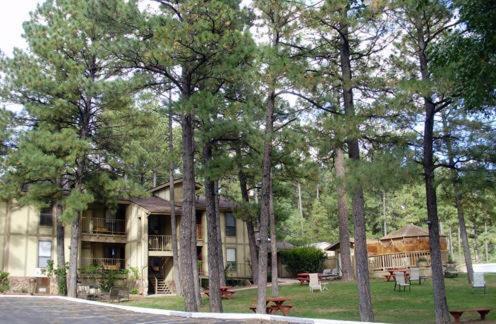 Address
1000 Mechem Drive
,
Ruidoso
,
New Mexico
,
United States
,
88345
,New Mexico
Overview
Village Lodge Ruidoso features 33 rooms and lies 2 miles from Pillow's Funtrackers Amusement Center. The Ruidoso lodge provides Wi Fi, which is available throughout the property.
Location
Located only 6 minutes by foot from Cedar Creek Trails, the hotel lies a 5-minute drive from shopping venues such as Happy Hiker Ruidoso. Featuring the best options for rejuvenation, Grindstone Lake lies within 2.1 miles of the Ruidoso property. The Ruidoso hotel is situated around a 25-minute stroll from Wingfield Park.
Rooms
The rooms have private bathrooms with a tub and showers.
Eat & Drink
Dining options also include the American Noisy Water Winery, set a 25-minute walk from this Ruidoso accommodation.
Internet
Wireless internet is available in the entire villa for free.
Guest Parking
Public parking is possible on site for free.
Number of rooms:   33.
Former name: The Village Lodge
Facilities
Most popular facilities
Kitchen facilities
Cookware/ Kitchen utensils
Sports activities
Table tennis
Hiking
Cycling
Fishing
Diving
Horseback riding
Golf course
Tennis court
Bowling
Skiing
Food/ Drinks
Outdoor dining area
Picnic area/ Tables
General
Wi-Fi
Parking
Kitchen facilities
Air conditioning
TV
Laundry
Sports activities
Food/ Drinks
Sports & Fitness
Diving
Skiing
Hiking
Horseback riding
Cycling
Tennis court
Bowling
Golf course
Table tennis
Fishing
Dining
Outdoor dining area
Picnic area/ Tables
Business
Meeting/ Banquet facilities
Children
Board games
Children's play area
Spa & Leisure
Sun loungers
Live entertainment
Garden area
BBQ facilities
Room features
Air conditioning
Heating
Sitting area
Patio
Garden furniture
Tea and coffee facilities
Ironing facilities
Self-catering
Cookware/ Kitchen utensils
Media
Flat-screen TV
AM/FM alarm clock
Good to know
Check-in
from 16:00-22:00
FREE
Check-out
until 11 am
FREE
Children & extra beds
There are no cribs provided in a room. 
Pets
Pets are not allowed.
Rooms and availability

Bed options:

Max:

4 persons


Bed options:

Max:

4 persons
Garden view

Shower

Coffee machine

Bathtub

Balcony
Location
1000 Mechem Drive
,
Ruidoso
,
New Mexico
,
United States
,
88345
,New Mexico
City landmarks
Nearby
Restaurants
Hotels nearby
Store
Albertsons Market
2200 ft
Museum
Ruidoso River Museum
1.2 mi
1056 Mechem Dr
Adventure Mountain
2800 ft
301 Country Club Dr
Cree Meadows Golf Course
3100 ft
Winery
Noisy Water Winery
1.4 mi
Gallery
Thunder Horse Gallery
1.2 mi
Event hall
Ruidoso Convention Center
3700 ft
Gallery
The Adobe Fine Art
1.3 mi
Gallery
Kenneth Wyatt Galleries
1.5 mi
Park
White Mountain Recreation Complex
1.0 mi
Park
Happy Hiker Ruidoso
1.4 mi
Gallery
Mountain Annie's Center for the Arts
1.3 mi
235 Hart Ave
Ruidoso Lookout Tower
1.5 mi
Lake
Grindstone Stables
2.0 mi
Race track
Pillow's Funtrackers
2.2 mi
Park
Two Rivers Ruidoso River Park
2.2 mi
615 Sudderth Dr
Art Ruidoso Gallery
2.5 mi
Park
Alto Lake and Recreation Area
3.0 mi
Ruidoso
Cedar Creek Trails
1500 ft
You can book a shuttle, once your reservation is complete.
Essential information about Village Lodge
| | |
| --- | --- |
| 💵 Lowest price | 79 US$ |
| 📏 Distance to center | 1.3 mi |
| 🗺️ Location rating | 6.8 |
Reviews of Village Lodge
Joyce

My recent stay at Village Lodge was a delightful experience. The room was clean, spacious, and had all the amenities I needed. The staff was friendly and went out of their way to make my stay comfortable. Additionally, the location was convenient, with easy access to downtown. I highly recommend this hotel for a pleasant stay.

Harriet

I had a great stay at the Village Lodge in Ruidoso. The location was perfect, surrounded by beautiful trees and well-maintained surroundings. The parking lot was clean, and the living room, restroom, bedroom, and kitchen were all spotless. The kitchen was fully equipped with everything I needed, including a stove with an oven, refrigerator with a freezer, dishes, toaster, microwave, and sink. Plus, there was a grocery store nearby for any additional supplies I needed.

Although my stay was overall enjoyable, there were a couple of drawbacks. First, there was no central AC in the room, and it got quite stifling at times.

David

We loved the location, close to the convention center and shopping. The surroundings were beautiful with well-maintained landscapes. The staff was courteous and helpful.

Felt very happy, no complaint.

Thomas

Great location, close to attractions and restaurants. The room was nice and clean, and the bed was comfortable. The staff was friendly and helpful.

The WiFi was extremely poor and only worked if you were sitting on the steps. The sofa bed was in terrible condition and very uncomfortable to sleep on.

Anthony

The location of the lodge was perfect for our needs, with beautiful surroundings and a well-maintained landscape. The parking lot was clean and the living room, restroom, bedroom, and kitchen were all spotless. We were pleasantly surprised to find a fully equipped kitchen with a stove, refrigerator, toaster, microwave, and sink. There was even a nearby grocery store for added convenience. The comfort and kindness shown by the lodge staff made our stay even more enjoyable. We can't wait to come back!

Wayne

I got great value for my money at this hotel. The room was spacious and comfortable, with a separate bedroom and a fully equipped kitchen. The location was convenient and the staff were friendly and accommodating.

Breakfast offerings could be improved with more variety.

Nathan

stayed in ruidoso before. but this quiet weekend at village lodge was perfect. room was clean, service was great, and location was ideal. exceeded expectations.

Megan

We had a great time at Village Lodge during our recent visit. We stayed for a few nights and enjoyed the beautiful surroundings, with well-maintained landscapes and tall trees. The location was perfect for us, with a grocery store nearby and easy access to hiking trails at the National park. The rooms were clean and well-equipped, with a full kitchen that had everything we needed. The staff was helpful and left our key in an envelope when we arrived late at night. it was a comfortable and enjoyable stay for our family.

Totally recommend this hotel.

Thomas

We had a fantastic stay at this lodge! The staff was extremely friendly and helpful. The room was clean, spacious, and had a cozy fireplace. The kitchenette had all the necessary equipment for cooking our own meals. The location was perfect, with convenient access to karaoke and casinos. We had an amazing time!

We felt very well taken care of, with nothing being too much trouble for the staff.

Philip

The location of this lodge is perfect, with easy access to restaurants and stores in an area already experiencing a water shortage. Additionally, it is really close to everything and right next to the country club. The room was nice and clean, with friendly maid service. The staff was delightful and provided helpful tips about events in the area. The check-in and check-out process was fast and convenient.

The bathroom fixtures were old and starting to rust.

Emma

The location and price were good. Accommodating staff. Scenic area with great dining options and grocery store. Close to convention center and shopping. Quiet and peaceful stay. Helpful staff retrieved forgotten items. Wonderful kitchen and layout for families. Excellent value for space. Beautiful property.

Nothing bad to say.

Laura

Our room at the Village Lodge was cozy and comfortable. The location was perfect, with everything we needed nearby. We were pleasantly surprised by the kindness and attentiveness of the staff. we had a great stay and would recommend this hotel.

missing

Nice place, first time my husband and I have stayed there. We will for sure be staying there on our future trips to Ruidosa. We did not use outdoor area, hot tub etc..This place is really a great value compared to the hotels as you come into Ruidosa .

None

missing

Good bed, friendly people, great location.

missing

Great place to stay with family. Felt more like a cabin rental than a hotel. Friendly n helpful staff.
FAQ about Village Lodge
Is Village Lodge equipped with facilities for disabled persons?
Yes, Village Lodge has rooms with facilities for disabled and wheelchair access. Please, call ahead for any specific enquiries.
What is the price of booking Village Lodge?
The price for staying at Village Lodge starts from $69.
Can I have a meal next to Village Lodge?
Guests can visit El Camino Nuevo restaurant, placed within a 10 minutes' walk of Village Lodge.
What payment methods are accepted in the lodge?
Payment methods available in the lodge include Mastercard, Visa and Discover.
Is a swimming pool available at the villa?
No, there is no pool at the villa. Please contact the property directly to find out more details.
What are some of the amenities at Village Lodge?
Village Lodge offers such facilities as a free parking lot, a tennis court and a picnic area.
Are there any facilities for children featured at Village Lodge?
Yes, Village Lodge offers board games and a play area.
Does Village Lodge arrange any sport activities on site?
At Village Lodge guests can try such sport activities as diving, snow skiing and horse riding.